This page lists all known Viper SideWinder frames. More pictures should be added soon.
More information : http://www.viperstyle.com/
SideWinder TP
The TP stands for TwisterPlus, since these frames are all meant to be drop-in replacements for the original frames on the TwisterPlus.
SideWinder TP 248mm
This is the frame used in the TwisterShortFrames comparison. It is 248mm long with the axles not equally separated, making it possible to use an 80-84-84-80mm rockered wheel setup. Of course, if you make the math, you'll realize that it leaves no space between the wheels. I've tested it, and indeed all wheels touch each other when they're new, so you need to push hard the first few kilometers and wear off the wheels enough to separate them a little.
Known colors :
Photos soon...
SideWinder TP 242mm
Photos soon...
Known colors :
SideWinder TP Captain 242mm
Photos soon...
Known colors :
SideWinder 2 TP
SideWinder 2 TP Mamba 242mm
Known colors :
black
dot
red
emerald
blue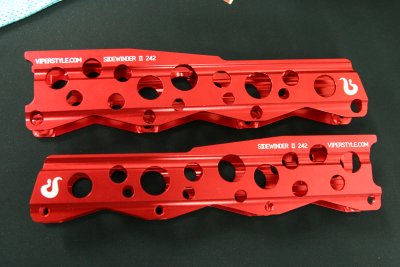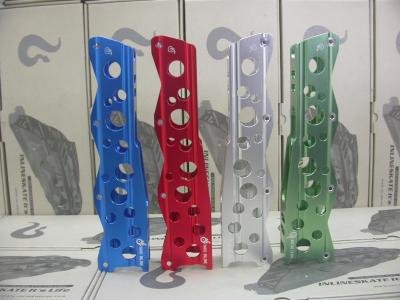 SideWinder CM
The CM stands for CrossMax since this is an UFS frame, meant to be used as a drop-in replacement on all Salomon Freeskates. It also fits perfectly all other UFS skates, like the K2 Fatty and most other aggressive skates.
Photos soon...
Known colors :