Garcia Faria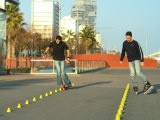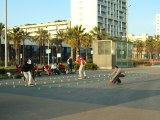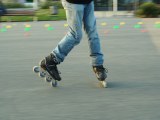 Map / Mapa

Map / Mapa (con Google Earth)
The surface for this spot is great, it's very close to the "Rambla Poble Nou" spot, but much calmer. Close to the beach, easy to park, the best choice if you're coming into the city by car.
Suelo :

50cm : (1)

80cm : (2)

120cm : (1)
Arco de Triunfo

Map / Mapa

Map / Mapa (con Google Earth)
This is the most used spot, as there is a weekly rendez-vous point there on Wednesday evenings for practicing slalom. The surface is quite nice, not rough at all although a little bumpy here and there.
Slalom :
2 x 50cm
3 x 80cm (speed)
1 x 120cm
Parque del Clot

Map / Mapa

Mapa Parque del Clot(con google Earth)
Mapa Parque del Clot (con google Map)
This is the second most used spot, since a lot of practicing is done on Tuesday evenings during the APB classes. The surface is excellent, lighting in the evenings is also great, but there are a lot of basketball, soccer and even tennis players over there on week-ends.
Slalom :
2 x 50cm
3 x 80cm
1 x 120cm
Parc Miro - Las Arenas
Este es spot que tiene una pendiente muy ligera que apenas afecta, y es una solución práctica para los que viven en la zona Oeste de Barcelona y quieran conear decentemente sin perder mucho tiempo.
Slalom :
Port Vell

Map / Mapa

Dead spot since late 2005. Used as a parking and for some works.
This is a calm spot, as unlike most others, it is not a popular or passing place. The surface is a little rough, and the ground is slightly tilted. A small annoyance are the 2cm high plastic reflectors nearby on the ground, beware!
Slalom :
Rambla Pueblo Nuevo

Map / Mapa
This is a nice, clean, spot with the smoothest ground of all. Some will probably even find it a little too smooth, but that makes it a really good place to practice difficult shuffles or to go to when your wheels can't take much more.
Slalom :
1 x 50cm
2 x 80cm
1 x 120cm
Forum

Map / Mapa
Very calm spot ever since the Forum 2004 ended. The surface is perfecly smooth, the best for speed slalom practice. Part of the lanes is even covered, but not that much unfortunately.
Slalom :
1 x 50cm
2 x 80cm (speed)
Barceloneta

Map / Mapa
This one is way below average, since although it is perfectly flat, the ground is really rough and often filled with little things falling from the trees on which it's very easy to trip! The main advantages are that it's close to the start of the Friday night skate, it is very calm, and very close to the beach for the summer time.
Slalom :
Butyklan
Slalom :