The 2006 Twister, aka Rollerblade Twister II Pro
History
The Twister is now a legendary skate, the one and only remain of the Tecnica skates from before the Rollerblade merger. The core hadn't changed until last year (2005), so even the first time it appeared under the Rollerblade brand in 2004, it had the looks of an already aging skate. The only reason why it was kept in the first place was because so many slalom and freeride skaters relied on it, mainly in France, with few or no other options to replace it at the time.
Changes
In 2005, the exterior boot was changed to a softer orange one, with many openings. The frame and wheels, which had always been the weakest part of the skate, were kept unchanged. This new version of the Twister was a complete flop among freeriders, and not much of a success among slalomers either. It could be considered at best an overpriced fitness skate. But this year, more changes have been made, which can be called improvements at last. The exterior boot is the same as the previous, but in a thicker black plastic which makes it stronger. This isn't true for the red "Limited" series, which is very similar to the orange plastic. The frame has been replaced with a good looking black one. It's a bit rough around the edges, literally, but at least it now uses standard race axles which have a thicker tip, meaning it should be more solid. Also, the skate comes equipped with a spoiler at no extra cost... in fact, the retail price has decreased by 79€, which one can now use to buy really good wheels to replace the original ones, as those are still the same.
Opinion
For 199€ this new version of the Twister is definitely back on track for dominating the freeride and slalom markets. At that price you now have a skate on which you don't even need to change the frames or add a spoiler to get started. You basically only really need to change the wheels. Since it's still a 250mm frame that can fit up to 80mm wheels, it can also be used as a recreational fitness skate, with great advantages when used for freeride, jumps and slides. It's definitely not meant for speed skating, but the new frame mounting from outside the boot now allows for much faster frame switching, so owning a separate set of longer frames for fast night skates or downhill sessions is now more of an option.
Pros :
Strong outside boot
Bigger frame axles
Spoiler included
Easier frame mounting
Cons :
Low quality wheels
Fragile spoiler buckle
Squeaky noises
Photos
navI's original Twister with 4 80mm Hyper Concrete wheels :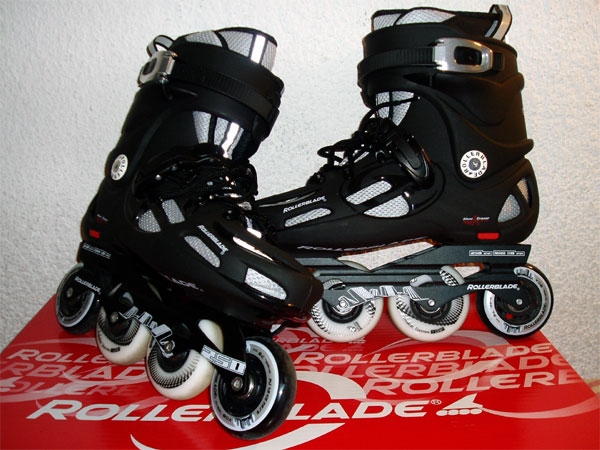 Thias' Twister with 8 80mm Seba wheels, Viper SideWinder II Mamba frames and Salomon Campbell boots :